Ben Irawan NSW Upper House Election Campaign
Account Type: Business
SnapCard URL:
Category: Public Figure
Who is Ben Irawan?
Ben Irawan is a public speaker, entrepreneur, business consultant and educator. He is the founder and director of Kingdom Culture Christian School, a state executive of Australian Conservatives NSW, event director of Sydney Easter Parade & Family Day.
He's been involved and accomplished many past and current achievements including being the Director of 'Focus on the Family' Australia, Chairman of Dads4Kids Fatherhood Foundation, Board Member of Australian Heart Ministries, Founder of Kingdom Culture Christian School, Director of the Family First Party and so many more.
How does Ben Irawan use SnapCard?
On the 2019 NSW State election, Ben Irawan ran for NSW Upper house as part of the Australian Conservatives party and held a campaign.
For his campaign, Ben Irawan used SnapCard to gain interest to the public through his SnapCard Business Account. He used the features of Quick Add through QR Code, Introduction AR Video with Social Media Links, Engaging Selfie Frames for supporters to share on social media, and a SnapCard Business account that contains his policies, details and additional information.
1. Quick Add through QR Code
With the QR Code, anyone is able to quickly add Ben Irawan into their contacts to get his email, phone number or other contact details.
Through the SnapCard app, scanning this QR Code will further lead users to his Business Account that includes his social media, information, flyers, policies, Selfie Frames, an AR Video and more. This can all be done by just scanning the QR Code above.
Try it for yourself by scanning the QR Code above with your phone!
2. Quick introduction with AR video and links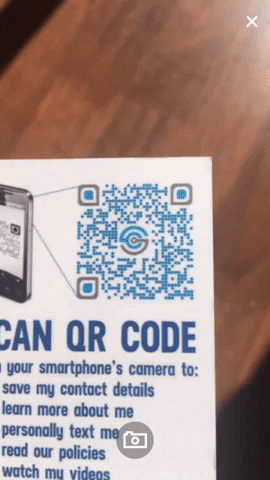 The AR video feature opens up a new, memorable way for users to view video content.
Ben Irawan used this feature to showcase his NSW Upper House promotional video as seen above.
You can try it out for yourself when you download the app and scan the QR Code here!
3. Engaging the public using AR Selfie Frames
Ben Irawan's 'Selfie Frames' allows supporters and users to take a Selfie as if Ben Irawan was there with them!
These Selfie Frames were used to engage the public and spread the word of 'Ben Irawan for NSW Upper House' when supporters post these engaging selfies on their social media.
4. And Many More Interactive Uses (Policies, Information, Gallery, Video etc)
This is Ben Irawan's menu configuration that he used for his Business Account.
You can personalize your own menu through SnapCard's Business Account to suit to your business type and products.
This includes:
About Me/Us
Contact Details
Gallery
Video Gallery
Product Purchase
Posts
Selfie Frames
Event Details
Staff
And a few others
If you want to know what you can customize through the menu, feel free to contact us!
Are you looking to create your personal brand or advertise your company?
Contact us on how SnapCard can help you to engage your audience better!

Interested in SnapCard? Check it out yourself and download it here!